Alat Buat Live Streaming HD Video Capture Ezcap 261M
Buat teman-teman yang membutuhkan alat tambahan untuk melakukan live streaming dari kamera dslr, mirrorless, atau camcorder di internet, bisa gunakan alat ini yaitu HD Video Capture Ezcap 261M USB 3.0 HDMI Live Streaming Support Mic.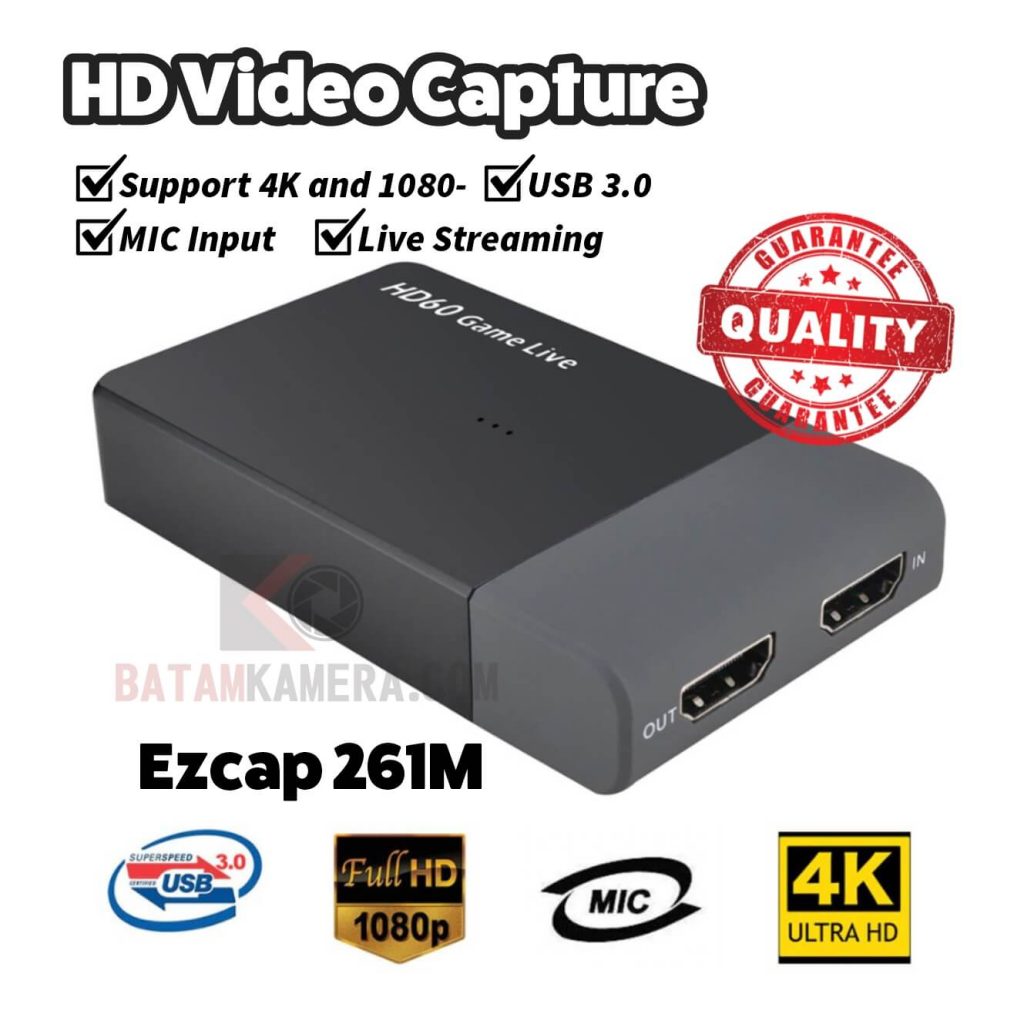 Alat ini memiliki fungsi seperti Eltago HD60, dan sejenisnya.
Alat ini berfungsi untuk merubah output HDMI menjadi USB Device, secara umum alat ini biasanya digunakan untuk live streaming dari kamera, camcorder, playstation, xbox, dan alat output hdmi lainnya ke media social seperti Facebook, Youtube, dan aplikasi lainnya seperti OBS, VMIX, dan sebagainya.
Fitur :
Plug and play, no need to install driver, just use 3rd party software to capture your HD video.
High quality video recording, support 4K and 1080P video capture and streaming.
USB 3.0 high speed interface, powerful to get HD video into you computer up to 4K.
With MIC input, you can record microphone audio through it so that you don't even miss the narration.
With HD input and output port, you can play and record the 1080P video at the same time.
Live RTMP streaming to YouTube, DailyMotion and more.
Supports for Windows, for Mac or Linux.
Spesifikasi :
Brand Name: ezcap
Model Number: 261M
Interface: USB 3.0
Video Input: HD port
Audio Input: HD port, 3.5mm MIC
Video Output: HD port
OS Support:
for Windows 7, 8, 10; for Mac OS X 10.9 or later; Linux
Resolution:
720 * 480 (60p), 720 * 576 (50p), 1280 * 720p (50p), 1280 * 720p(60p), 1920 * 1080 (50i), 1920 * 1080 (60i), 1920 * 1080 (24p), 1920 * 1080 (25p), 1920 * 1080 (30p), 1920 * 1080 (50p), 1920 * 1080 (60p), 4K
Software Compatibility:
OBS Studio (for Windows / OS X); Windows Media Encoder (for Windows); for Adobe Flash Media Live – Encoder (for Windows / OS X); Real Producer Plus (for Windows); VLC (for Windows / OS X / Linux); QuickTime Broadcaster (for OS X); QuickTime Player (for OS X); Wirecast (for Windows / OS X); vMix (for Windows); Potplayer (for Windows) and etc.
Record Quality: Max 1080p 60fps
Barang yang didapat :
1 * Video Capture
1 * USB 3.0 Cable
1 * USB3.0 Female to Type-c Male Adapter
1 * User Manual (English / Chinese)
Barang baru, dan ready stok langsung dikirim oleh toko batamkameracom